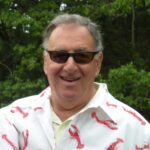 Come join your fellow members for our 11th Annual Lobsterfest Event recently named for our late Secretary/Treasurer and long-time board member, Joe Pirozzi, who came up with the idea for this event! This event is proving to be very successful and is growing in popularity by leaps and bounds every year! It's a great opportunity to network with other transportation industry professionals while enjoying lobster, clams, shrimp, live music, and other pleasantries in a beautiful setting.
Thursday, June 9th, 2022 (rain or shine – we'll have a huge tent!)

1:00 pm – 6:00 pm
Windward Beach Park, Brick, NJ
(GPS Address: 245 Princeton Ave., Brick, NJ)
$140 – Members & their guests
$165 – Non-members
Included in your day will be Lobster, shrimp, little neck clams, chicken, corn on the cob, and various salads. Also included will be beer, wine, punch, soda, water, dessert and coffee.
We will also have live music performed by Acoustic Sherbert.
Due to the huge success of our Bocce Tournament each year, we will once again look forward to some fierce competition on the courts! Please email Kathy to register for the tournament asap as it will fill quickly!
Help us make this day a success! Your sponsorship tells everyone that you support The Traffic Club of New York! We have the following Sponsorships Available:
$550 – Beer, Wine and Punch Sponsor
$300 – Event Sponsor
$250 – Bocce Tournament Sponsor
$150 – Dessert Sponsor


If you would like to sponsor, please notify us by May 12th in order to have your logo on our Lobsterfest cups! A reusable keepsake cup that you can take home with you. You can still sponsor after that date and your logo will be on our banner, listed by level of sponsorship.
Please call Kathy by June 4th to make your reservations at 212-269-1200 or kathy@tcny.org or scroll down to order tickets and pay online.
No-shows will be responsible for payment. Cancellation date is June 3rd.
View photos from last year's event
If paying by check, please mail to:
The Traffic Club of New York
244 Madison Ave., Suite 419
New York, NY 10016
If paying by credit card:
Please choose member pricing for yourself and your guests, if you are a member.
You will be asked for "quantity" after you have hit the "add to cart" button
Although our room block has expired, many guests will be staying at the Hilton Garden Inn in Lakewood, NJ which is 3.5 miles from the park.
Please call our office with any questions at 212-269-1200